BerrY Creek Farm
A 158-acre organic family farm in the scenic Northeast Kingdom
26 Years And Still Growing
Our Mission
Berry Creek Farm is dedicated to pursuing sustainable organic agricultural enterprises linking local food to the community. In this endeavor, Berry Creek Farm will provide agricultural educational opportunities, a living for the farmers, and ensure the viability of the farming operation for the next generation.
sweet corn is here and melon should be ready soon
Our Own Products
Strawberries
Vegetables
Honey
CSA Shares
Beeswax Candles
Pork
Beef
Jams
Cut Flowers
Annuals
Herbs
Perennials
Hanging Flower Baskets
Patio Tomatoes
Vegetable Plants
From Other Producers
Kingdom Mountain Maple: organic maple syrup from Westfield, VT
Lazy Lady Farm: organic cow, sheep and goat cheeses from Westfield, VT
Butterworks Farm: organic yogurt, kefir, buttermilk and cream from Westfield, VT
River Gardens Kitchens: all-natural salad dressings from
Elmore Mountain Farm: goat milk body products
High Mowing: organic seeds
Maine Potato Lady: seed potatoes
Vermont Compost Company: potting soil and compost
High Hopes Orchards: apples and pears
Pennsylvania Peaches
Vermont Switchel
Aqua Vitea: organic kombucha from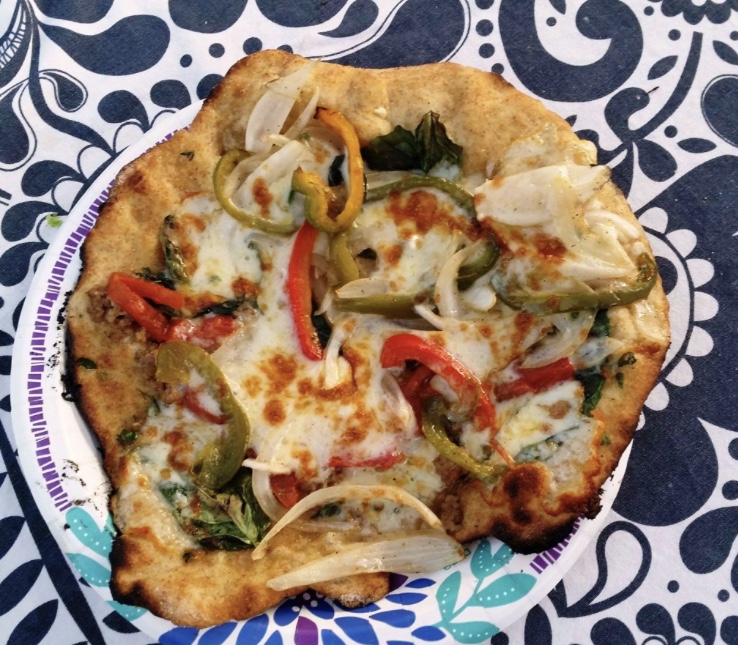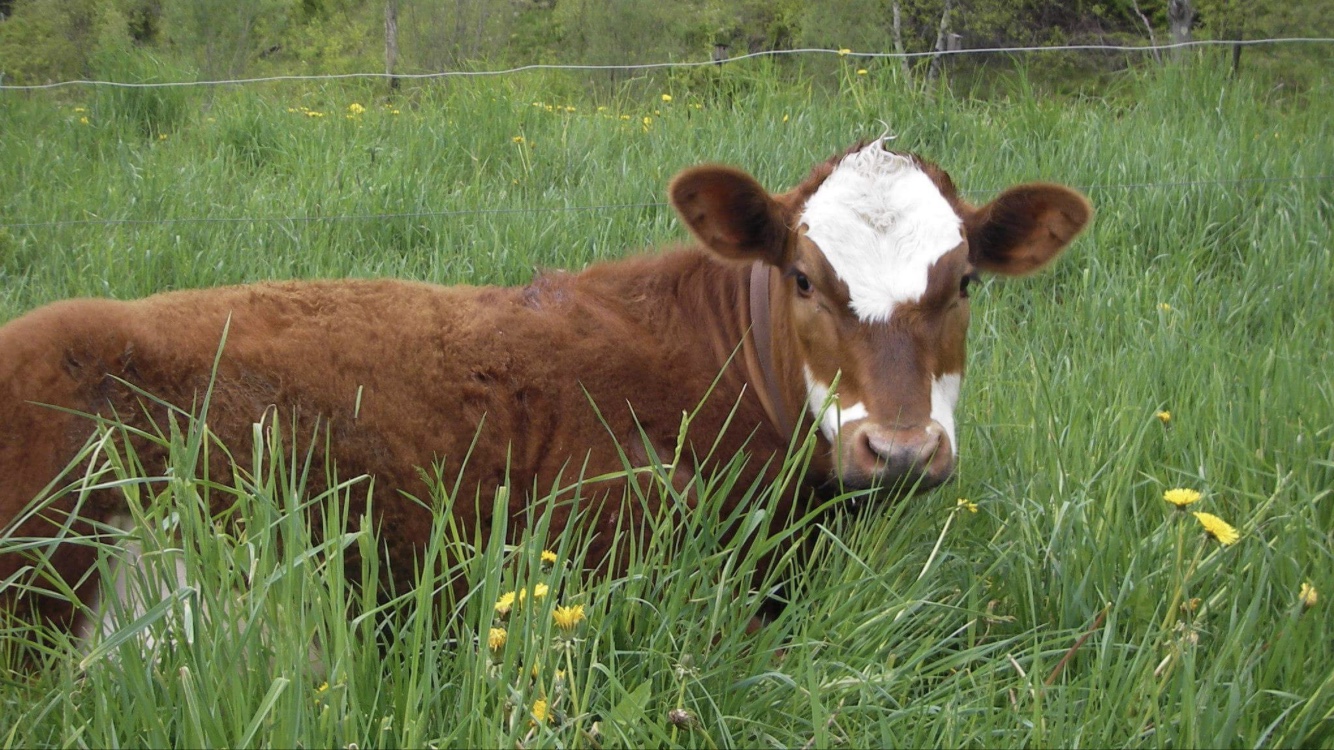 What Is CSA (Community Supported Agriculture)?
In essence the purchase of a farm "Share" gives the consumer fresh local produce all season long. By commiting to buy the vegetables, the consumer receives delicious, freshly picked, local produce at below the retail cost and the farmer reduces the time and money spent on marketing during the season and receives more of the actual food dollar. The consumer also caries some risk with the farmer, but also benefits. For example, if pollination is poor in the squash field, there will be few squash, but another crop will be more bountiful. A "Share" is basically like a subscription in that you pay up front (February) and then when the vegetables and strawberries are ripe, they are harvested, cleaned, and delivered/picked-up the same day, which guarantees the share members the finest quality available!
Know where your food is grown! As a NOFA-VT farm we do not use any genetically engineered seeds, harmful pesticides, herbicides, or fungicides that damage your health and the environment.

Reduce packaging, distribution and transportation waste, and your carbon footprint!

Broaden your food horizons by sampling some unusual varieties with recipes which we gladly share, and increase your dinning enjoyment.

Live a healthier life Studies now show food that travels less is more nutritional than food that has traveled cross country or internationally.

Support a local family farm, that, in turn, supports other local businesses and labor, while practicing healthy land stewardship and ensuring clean green space in Vermont.

Learn about how your food is grown by visiting the farm and build a healthy new link to your community.

Support the Jay Area Food Shelf & the Troy Area Senior Meal Site Our CSA supports shares for these community institutions - fresh, local, organic food for those who need it most! Every cent donated goes directly to the cost of a share. Ask us about this program.
Help us serve you better:
We plant our seeds according to our membership size. We have over 60 vegetable and fruit varieties offered!


Be Social! Berry Creek Farm is where friends meet!
CSA Shares
We offer two types of CSA share. You can choose to pick up a prepared box of produce each week at Newport Natural Foods (on Main Street in Newport, VT), or use your share to purchase items whenever you like at our farm stand during our regular hours of operation.
Members who pick-up at Newport Natural receive a pre-packed box of vegetables (you have an option for choosing your vegetables for your box!) on either Monday or Thursday afternoons from mid June through October. A delivery fee is added to the share cost to cover the expense of preparing and delivering boxes each Monday or Thursday. Those members who pick-up at the farm use their share to shop at the farm stand. These members also receive a 20% reduction on their tab!
Members shopping at the farmstand may apply their CSA share amount and their 20% discount towards all of our farmstand products. This includes all our own products (produce, eggs, flowers, jams, honey, plants) and the products we carry from other producers (organic yogurt, cheese, salad dressings, seeds, and maple syrup).
Other Perks For CSA Members
Included in your membership is the ability to pick your own green beans, yellow wax beans, and Edamame soy beans at no extra cost (please note your interest in the sign-up form). Berry Creek Farm CSA Members may also order our farm-raised, freezer-ready beef and pork, at an additional cost (please see sign-up form for more details). We also offer a regular email newsletter and recipes.
Sign Up For A Berry Creek Farm CSA Share
Use the signup form below to order a CSA share from Berry Creek Farm! Our CSA shares run during our growing season (May to October for shares picked up at the farm, June to October for shares picked up at Newport Natural Foods).
*SIGN UP BY APRIL 10*
If you have any questions about ordering a CSA share, please call us at 802-744-2406. Thank you!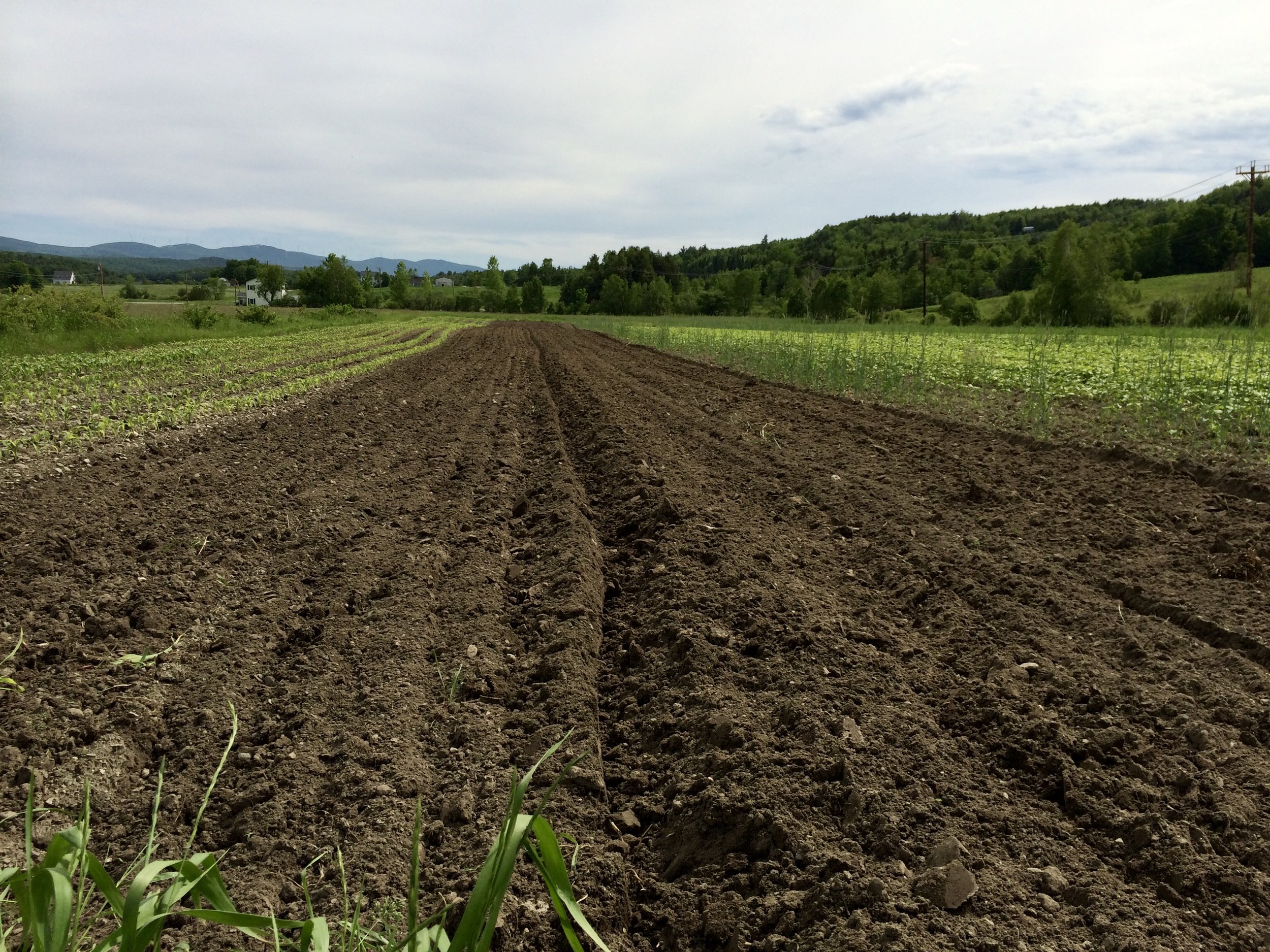 why support organic farmers like us?
Protect Future Generations
Build Soil Fertility
Save Energy & Reduce Dependence On Fossil Fuels
Reduce Health Risks
Protect Farm Workers
Help Family Farms
Support a True Economy
Promote Bio-Diversity
Maintain Healthy Waterways
Great Tasting, More Nutritious Food

Berry Creek Farm was the 1st Certified Organic Strawberry & Vegetable Farm in Orleans County in 1993!
Visit US
1342 VT Route 100
Westfield, VT, 05874
Farm Stand Hours
May 1- End of October
Monday-Friday: 9-6
Saturday: 9-5
Sunday: 10-5 (CLOSED Sundays after Strawberry season-mid July+)
Contact Us
If you have questions for us about our CSA offerings, produce, or meat products, you can give us a call at 802-744-2406. Please leave a message, since we're normally in the farm stand or in the field. Thanks! You may also use the form below.
We'll get back to you as soon as we're able.
Please complete the form below
You may also write to us at Berry Creek Farm, PO Box 76, Westfield, VT, 05874
All our vegetables and herbs are certified organic not all our flowers due to pelleted seeds
Artichoke: Tavor 90 days Improved variety buds are green with purple tips and are sweet and tender
Broccoli: Arcadia 63 days: stress tolerant, a rugged vigorous broccoli with late maturity.
Brussels Sprouts: Gustus 99 days:Very dense and sweet, good production.
Cabbage green: Farao 63 days: Delicious early head are sweet and tender
Impala 105 days: High quality heads hold exceptionally well in field and storage
Cabbage red: Omero 73 days: Midseason with good flavor
Buscaro 105 days: Full sized heads with sweet, juicy flavor for fresh market use.
Cauliflower Amazing 68 days: medium size, solid curd self blanching
Veronica 78 days: spiraled lime green head
Flame star 62 days: Pastel orange cauliflower with improved heat tolerance
Graffiti 80 days: stunning purple head
Celery Tango 85 days; Greatly improved variety that is easy to grow
Affina 60 days: cutting celery, flavor gets stronger as the leaves get older
Celeriac Balena 108 days; hybrid celeriac with improved heat tolerance
Cucumber olympian 52 days: good combination of flavor yield and appearance
Marketmore 58 days; dark green fruits stay green and mild tasting even under heat stress
Green finger 60 days: Thin, tender skin, crisp flesh and a small seed cavity
Nokya 55 days: productive and flavorful long Asian cucumber,,,,,,,,,,
Suyo long 61 days: Traditional long fruited variety from China
Little leaf 58 days: uniform fruits great for fresh eating or picking
Silver slicer 54 days: and excellent flavor and lovely smooth skin
Eggplant Nadia 67 days: traditional black Italian type, fruit under cool conditions
Galine 65 days; high yielding black bell type
Husk cherry Goldie 75 days; Small, sweet, orange berry with a husk like a tomatillo
Kale: Lacinato 30-60 days: blue green savoyed leaves
Darkibor 50 days:Dark green with excellent flavor
Redbor 55 days: curly red kale
Leeks King Richard 75 days: full size leek with long slender shaft, for summer and early fall
Bandit 100 days: Thick,heavy winter leek for late harvest or overwintering.
Lettuce: mix of leaf, Boston and romaine in green or red
Melon Sarah's choice 76 days: very flavorful cantaloupe about 3 lb
Hannah's choice 75 days: strong disease resistance, full of flavor about 5 lb
Savor 78 days: " Charentais" unsurpassed eating quality
Okra Burgundy 65 days: large tender crimson pods on vigorous plants with beautiful red stem and veining
Onions Paterson 104 days: yellow onion with extremely long storage
Cabernet 100 days: early yield of red onion
Red wing 118 days: superior red color, long storage
Walla Walla 110 days: sweet onion
Conservor 100 days: Shallot tear drop shaped with pink flesh and easy to peel rosy skin
Pepper Ace 50 days green, 70 red; extra early ,highly productive
King of the North 60 days green 72 red; reliable set of green to glossy red fruit in short season
Red Knight 57 days green, 77 red: Big blocky fruits are early to turn red
Gourmet 65 days green, 85 orange; Thick, juicy walls and fruity sweet flavor
Flavorburst 67 days green, 87 yellow: excellent, sweet flavor, medium large fruits
Islander 56 days lavender, 81 red: medium size strong tall plant yield well
Purple beauty 55 days purple, 75 red: sturdy compact plants loaded with stunning deep purple fruits
Carmen 60 days green, 80 red: best-tasting sweet Italian frying pepper
Nassau 64 days green,84 red: Productive Cubanelle for frying
Jalapeno 65 days green,85 red: prolific yield of flavorful blunt fruits with distinctive jalapeno flavor
Czech Black 65 days: black: hot as a jalapeno
Thai hot 82 days : Fiery red can be dried about 30 000 Scoville
Hot rod 55 days green 77 red: Serrano type ,very hot
Red Flame 60 days green, 80 red: high yielding red rocket and ristra type, hot
Krimson Lee 62 days green, 82 red: Thick walled frying pepper medium heat
Numex joe E Parker 70 days green,95 red: Southwestern style traditional Anaheim.
hungarian hot 59 days yellow, 84 red: Long banana-shaped waxy pepper used for frying, stuffing and pickling
Magnum 80 days green,100 orange: Typical habanero with bonnet shape. 210 000 Scoville
Pumpkins Baby Pam 99 days: pie pumpkin with long handles and dry bright orange skin
Long pie 100 days: Best pie pumpkin for cooking with virtually stringless smooth orange flesh
Jack straw 100 days: a smooth -faced Jack O'Lantern
Cinderella 99 days: red French heirloom with sweet flavor delicious in soups and purees
Polar bear 100 days: extra large white pumpkin
Dill's Atlantic 120 days: The world record for size
Big Max 120 days: big pumpkin 80 to 100+ lb
Jack Be little 95 days;miniature, old fashioned pumpkin
Black Futsu 105 days: Japanese specialty with black warty skin and nutty, fresh flavor
Summer squash Dunja 50 days: excellent disease resistance zucchini and high yield of straight green glossy fruit
Golden glory 50 days: spineless yellow zucchini with excellent yield
Yellow crookneck 50 days: summer squash with tender lemon yellow fruits
Success straightneck 50 days: disease resistant yellow squash
Eight ball 50 days: Dark green, shiny, round zucchini
Y-Star 55 days: Golden saucer shaped fruit with scalloped edges
Winter squash Sweet Reba 90 days: acorn with disease resistance, bush type. Avg 4-5 fruits
Bonbon 95 days: Buttercup with deep green, smooth skin and a prominent gray "button". Avg 4 fruits
sweet Mama 88 days: Kabocha with outstanding sweet flavor. Avg 4-5 fruits
Winter sweet 95 days: Kabocha unparalleled eating quality and extra long storage. cured for 2 months
Sunshine 95 days: Kabocha tender and very sweet, not a long keeper, 3-5 lbs,3-4 fruits
Waltham 105 days: butternut excellent keeper if cured properly 4-5 lbs, 4-5 fruits
JWS 6823 PMR 100 days: Butternut high yield ,good flavor, 3-4 lbs, 4-5 fruits
Delicata 95 days: superbly sweet, tender flesh unique to Delicata
Sugar dumpling 90 days: perfect two serving dumpling squash
Red Kuri 92 days: hubbard, flashy scarlet fruits, 4-7 lbs, 2-3 fruits
Baby blue hubbard 95 days: a much smaller blue hubbard ,4-6 lbs, 2-3 fruits
Spaghetti 88 days: fork over the squash pasta, 4-5 fruits
Tomatoes
ind= indeterminate: climbing varieties should be staked and pruned for best result, fruits ripen over an extended period
Det= Determinate: bush varieties do not need pruning and may be grown with or without support. Fruits ripens within a concentrated period Slicing Big beef 70 days (ind): nice combination of size,,taste and earliness, 10-12 oz fruits
New girl 62 days (ind): first early great flavor
Estiva 70 days (ind): nice combination of size, taste, and earliness
Damsel 73 days (ind): late blight resistance and excellent flavor
Cosmonaut 68 days (ind): rich complex flavor
Jet Star 72 days (ind): smooth fruits almost never scar or crack
Chef's choice 75 days (ind): attractive orange beefsteak
Polbig 60 days (det): first early determinate for cool climates
Celebrity 72 days (det): Long popular variety with good flavor
Paste Roma 65 days (det): productive plum tomato with great disease resistance
Juliet 60 days (ind): Great flavor fresh or cooked
Granadero 75 days (ind): most prolific plum bred for organic systems
Amish paste 85 days (ind): a long time favorite heirloom plum
Paisano 57 days (det): high yielding bush San Marzano
Cherry Sun gold 64 days (ind): intense fruity flavor, orange fruits
Sweet 100 68 days (ind): sweet red fruits
Yellow pear 70 days (ind), Black cherry 64 days (ind), Montesimo 55 days (ind)
Heirloom: Purden Purple, 72 days (ind) Green zebra 72 days (ind),Paul Roberson 78 days (ind), Black prince 80 days (ind), Cherokee
Purple 77 days (ind), Brandywine 78 days (ind).